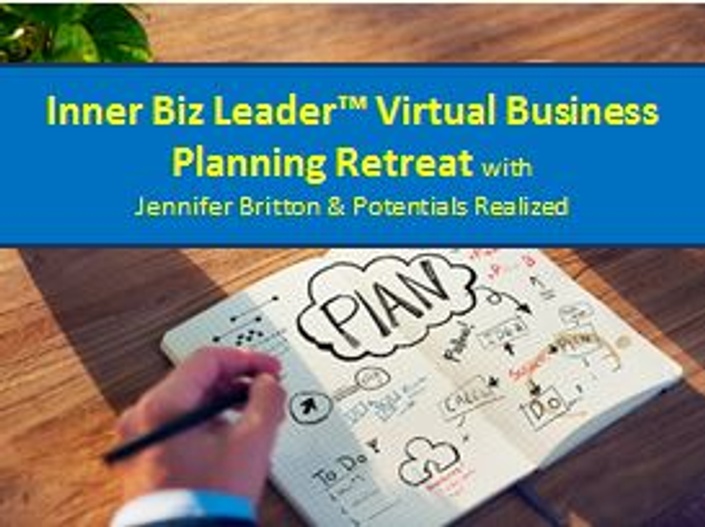 The Inner Biz Leader(TM) Virtual Business Planning Retreat
Create a powerful vision and plan for your work and leadership this year!
Enroll in Course
Are you a leader or business owner looking to create a plan for the next year? The virtual business planning retreat is geared to support professionals - leaders and business owners - with an opportunity to pause, reflect and focus on developing your vision and a plan for the coming year.
This is not your typical business planning retreat! The focus of the Virtual Business Planning Retreat provides you with an opportunity to create your plan for the next year, as well as deepen awareness of your unique capabilities - your strengths, values and opportunities. We focus on your Inner Biz Leader ™- your own leadership foundations.
The program can be taken on-demand, through self-paced video lessons, and every so often Jennifer will offer a live one day retreat. (See special registration option below).

The program is divided into several modules. Throughout the program we explore:
What's your vision?
Mapping out a Vision Roadmap(TM) and Activity Timeline for the next year
Identifying your top 3-5 goals for the next year
Developing Your Activity Roadmap for the Coming Year
Creating your One Page Plan
Who and what do you need to make this happen
What makes you unique - Your Values
What makes you unique - Your Strengths
Your Context - The SWOT - Strengths, Weaknesses, Opportunities and Threats
Your Unique Ecosystem
Getting Into Action - Focus, Experimentation, Momentum, Celebration
Throughout each of the sections of the retreat there are structured activities for you to undertake, building a one-page plan for you. Supplemental materials also address topics such as partnering and collaboration, tips for effective delegation and managing interruptions.
This is not your typical business planning retreat! It's geared to focus on YOU as a leader or business owner. These activities will support you in developing your business your business vision and plan for the next year. You will leave with a foundation you can build on as you move forward. We WILL NOT be covering topics such as budgeting or marketing strategy, which you will find in other courses.
You can complete the retreat in the course of one day or over a series of multiple days or weeks.
Each module takes approximately one hour to complete, and includes audio and video components, as well as worksheets you can complete offline.
Without a plan it's hard to know where you are going, and even harder to know if you've gotten there. This program is ideal for your creating your annual business plan and can be revisited quarterly.
Your Instructor
Well known for her practical and applicable approaches with learning, Jennifer Britton is based in the Toronto, Canada are . She is the author of five books including PlanDoTrack Workbook and Planner (2019) and the Coaching Business Builder (2018). Both books are geared to helping service based and virtual professionals grow their work and impact!
She is also the author of the world's first book on Group Coaching, published almost 10 years ago - Effective Group Coaching (Wiley, 2010) and From One to Many: Best Practices for Team and Group Coaching (Jossey-Bass, 2013). For the last two and a half decades Jennifer has taught, coached, and trained professionals all over the globe. Involved in formal and informal education since the late 1980s, Jennifer has taught tens of thousands of hours at post-secondary institutions, through online programs, workshops, retreats and in classroom based training. She's led Train-the-trainer workshops, virtual facilitation training, and coach-the-coach sessions for more than 15 years.
In 2004 Jennifer founded Potentials Realized, a Canadian-based performance improvement company dedicated to supporting leaders, teams and organizations with leadership, teamwork, and performance issues.
Leadership and teamwork, especially in the remote space, are two topics Jennifer is passionate about. During the first thirteen years of her career Jennifer worked with the United Nations, and other international organizations as a Program Director and Program Manager. By the age of 26 she was leading and directing programs involving hundreds of staff and volunteers, and dozens of communities, demonstrating the real power of collaboration and teamwork. This focus on exceptional team leadership, collaboration and capacity building continues today in her training, educational programs, coaching and consulting work.
Her work today is varied including coaching teams, as well as working with new and experienced leaders including virtual team leaders. Jenn also works with solopreneurs, particularly those in the coaching and training industries, who want to create exceptional programs for their own clients. Building onto several years of teaching business studies as the post-secondary level, her work with business owners is grounded in support of creating a powerful vision, honing their leadership foundations, and creating a business that works for their needs and lifestyle.
An avid writer, Jenn leads the Teams365 blog for team leaders, and the Group Coaching Ins and Outs blog for coaches.
This portal, the Learning Lab and Design Studio, houses the many video based programs Jennifer has developed since 2018, as well as the long-term live community groups she hosts on Fridays. An avid practitioner herself, Jenn continues to deliver in person and virtual programs for leaders and their teams, as well as for service based professionals (coaches, consultants and trainers). Jennifer also offers International Coach Federation approved Continuing Coach Education programs through Potentials Realized - The Group Coaching Essentials(TM) Teleseminar (8.75 CCEs), and the Advanced Group and Team Coaching Practicum (10 CCEs), Virtual Facilitation Essentials (8.5 CCEs) and the PlanDoTrack Facilitator Training Program (24 CCEs).
Jenn holds a Masters in Environmental Studies, a Bachelor of Science in Psychology. She is also a Professional Certified Coach, and a Certified Performance Technologist. You can visit her online at Potentials Realized or at the links below.
Frequently Asked Questions
When does the course start and finish?
The course starts now and never ends! It is a completely self-paced online course - you decide when you start and when you finish.
How long do I have access to the course?
How does lifetime access sound? After enrolling, you have unlimited access to this course for as long as you like - across any and all devices you own.
What if I am unhappy with the course?
We would never want you to be unhappy! If you are unsatisfied with your purchase, contact us in the first 30 days and we will give you a full refund.
Do I have to do the retreat all in one day?
I've been offering the live virtual retreat program since 2006, and different participants have benefited from different pacing. You can do the on-demand option all at once, or you can spread it out over several evenings or even weeks. Each module consists of approximately 15-20 minutes of video and audio and then 40 plus minutes of work for you to complete offline. Once in a while Jennifer offers a live, virtual retreat option where you can join her for the course of the day. The next one is scheduled for Wednesday January 11, 2017 (8-4pm ET)
Are you availble to work with me individually? Can I join a coaching group?
If you would like individual coaching support select the individual coaching support which includes 2 hours of individual coaching support.

Individual coaching blocks of 2 hours can be purchased as needed. Individual coaching is scheduled by phone or skype and between the hours of 7 am ET and 3 pm ET (Monday to Friday).
Group coaching packages are billed monthly and include the hours in the Gym (two Fridays a month), along with a bi-weekly resource (audio, coaching question and/or worksheet) . Select the Group Coaching Option for Business Owners.

What am I going to get from this program?
What am I going to get from this course?
Over 46 lectures and 4 hours of content PLUS seven hours of structured activities you can undertake at your own place.
Over the course of the program you will:

Create your vision for your work or business over the next 12 plus months
Create a Vision Roadmap for where you want to go
Develop an Activity Roadmap of key activities for each month over the next 12 months
Identify your top 3-5 key goals for the coming year
Identify resources (WHO and WHAT) will help you be successful with your key goals
Identify your unique strengths and values as a leader or business owner
Undertake a SWOT to explore your strengths and weakesses along with the threats and opportunities existing in your context
Identify your own unique ecosystem as a leader or business owner - what distinguishes you and makes you unique
Develop and build onto a One-Page Plan for the next 12 months
Get into action with Focus, Experimentation, Momentum and Celebration
Identify What's Next?