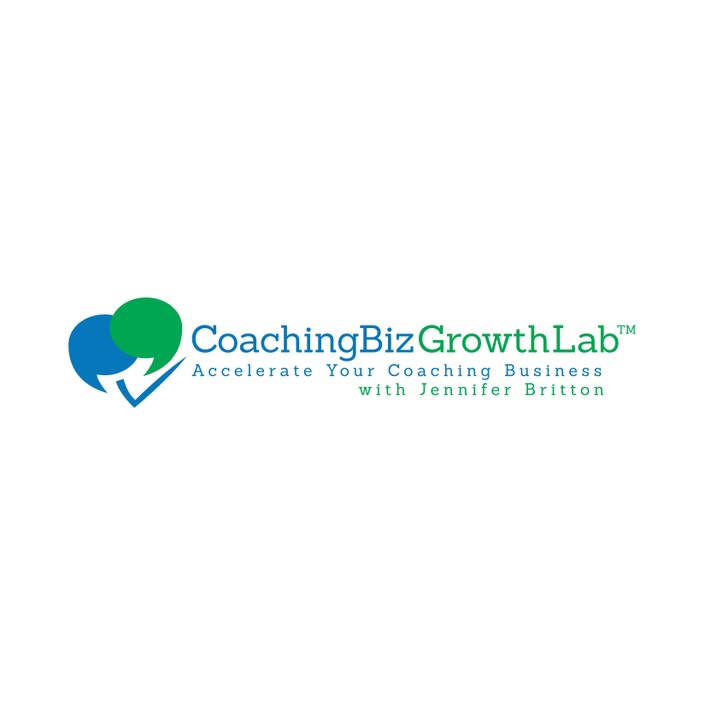 Are you a coach? Looking for a supportive environment to focus on your business growth? Looking to learn a little more about the foundations of your business? Join Group Coach Jennifer Britton (author of Coaching Business Builder Workbook and Planner) for this coaching group where we provide space for you to focus on your business, AND take action.Join for a quarter or the year.

The Coaching Biz Growth Lab includes two calls each month, with a monthly focus on different topics to support you in accelerating your business. In addition to the monthly calls, you'll receive access to a monthly article, and template to support you in your business growth. Each month there are special additions to support you in taking regular action. These range from virtual retreats to daily challenges to some indiviudual coaching.
You can join the group for one month, a quarter or a year. Calls are held via zoom on Fridays from 3 – 4 pm Eastern (New York/Toronto) during the 1st and 3rd weeks of each month.
During 2019 we are exploring:
2019 Milestones
Developing a Strategy for Client Outreach
Collaboration
Building Community with your Clients - Facebook, Instagram and others
Integrating more video into your marketing
Quarterly planning
Time Management
Content Creation Strategies
Content Deployment (your content is only as good as the #of eyes on it!)
2019 special events for Lab Members include Get it Done Afternoons, Invites to PlanDoTrack events, 7 and 30 day Challenges to get you into action!

During 2018 we explored these topics:
April 2018

Business Foundations and Ecosystem part 1 of 2 (Vision and Values)




May 2018

Business Foundation and Eco-styem part 2 (SWOT and Strengths)

Virtual Retreat

June 2018

Q 3 Business Planning

What's on offer? Your Business Funnel

Stocktaking of your offers

Knowing yoru client

July 2018f

Finding and Amplifying Your Voice - Content Creation

21 day challenge - content

August 2018

Program Design 101

Foundations and Hacks

September

Getting Back to Work – Habits and Systems

21 day challenge - habits

October

Beliefs and Accelerators

Relationships and Networks – part 1

November

Planning for Next Year

Relationships and Networks – part 2

21 day challenge

December

The Year in Review

Stocktaking, Renewal and getting ready for 2019!
Here at the CBGL site you'll have access to a new monthly template you can use in your work, past recordings, and an article geared to support you with your business.
Coaches who have joined us during the first year of the CGBL have been at different stages of their coaching evolution and business development. They have been committed to taking their business to the next level.
I hope you'll join us!
For more tips on growing your coaching business, follow Jenn at her CoachingBizBuilder Instagram feed where she shares #90DaysPlanDoTrack tips.

You can also pick up a copy of her 2018 publication - the Coaching Business Builder Workbook and Planner. It's a 285 page analog 12 month planner and workbook to support you with your business development. It's undated so you can start using it at any time! Check out CoachingBusinessBuilder.com for more resources and information about Jennifer's business development support.

Your Instructor
Well known for her practical and applicable approaches with learning, Jennifer Britton is based in the Toronto, Canada. She is the author of five books including PlanDoTrack Workbook and Planner (Forthcoming 2019) and the Coaching Business Builder (2018). Both books are geared to helping service based and virtual professionalsgrow their work and impoact!
She is also the auotor of the world's first book on Group Coaching, published almost 9 years ago - Effective Group Coaching (Wiley, 2010) and From One to Many: Best Practices for Team and Group Coaching (Jossey-Bass, 2013). For the last two and a half decades Jennifer has taught, coached, and trained professionals all over the globe. Involved in formal and informal education since the late 1980s, Jennifer has taught tens of thousands of hours at post-secondary institutions, through online programs, workshops, retreats and in classroom based training. She's led Train-the-trainer workshops, and coach-the-coach sessions for more than 15 years.
In 2004 Jennifer founded Potentials Realized, a Canadian-based performance improvement company dedicated to supporting leaders, teams and organizations with leadership, teamwork, and performance issues.
Leadership and teamwork are two topics Jennifer is passionate about. During the first thirteen years of her career Jennifer worked with the United Nations, and other international organizations as a Program Director and Program Manager. By the age of 26 she was leading and directing programs involving hundreds of staff and volunteers, and dozens of communities, demonstrating the real power of collaboration and teamwork. This focus on exceptional team leadership, collaboration and capacity building continues today in her training, educational programs, coaching and consulting work.
Her work today is varied including coaching teams, as well as working with new and experienced leaders including virtual team leaders. Jenn also works with solopreneurs, particularly those in the coaching and training industries, who want to create exceptional programs for their own clients. Building onto several years of teaching business studies as the post-secondary level, her work with business owners is grounded in support of creating a powerful vision, honing their leadership foundations, and creating a business that works for their needs and lifestyle.
An avid writer, Jenn leads the Teams365 blog for team leaders, and the Group Coaching Ins and Outs blog for coaches.
This portal, the Learning Lab and Design STudio, houses the many video based programs Jennifer has developed since 2014, as well as our 2016 long-term live community group at the Learning Lab and Design Studio which meets on Fridays. An avid practitioner herself, Jenn continues to deliver in person and virtual programs for leaders and their teams, as well as for service based professionals (coaches, consultants and trainers). Jennifer also offers International Coach Federation approved Continuing Coach Education programs through Potentials Realized - The Group Coaching Essentials(TM) Teleseminar (8.75 CCEs), and the Advanced Group and Team Coaching Practicum (10 CCEs).
Jenn holds a Masters in Environmental Studies, a Bachelor of Science in Psychology. She is also a Professional Certified Coach, and a Certified Performance Technologist. You can visit her online at Potentials Realized or at the links below.
Frequently Asked Questions
When does the course start and finish?
This is an open-enrollment program, meaning that you can join us at any time throughout the year. You can join in for a quarter or the full y ear. Calls are held twice a month on Friday afternoons.
What if I can't make one of the Friday Coaching Lab Calls
The program consists of two live and interactive coaching calls each month (60 minutes in length). Each call has a theme and involves coaching support around your goals and focus areas. Calls are recorded if you have to miss one!
What does my registration involve?
In addition to the two live calls each month (on Fridays for 60 minutes), your registration includes access to a monthly article (new each month), a monthly template, plus access to our library of past calls and other resources at the Coaching Biz Growth Lab. You'll also be invited to participate in quarterly GET IT DONE Virtual Retreat Afternoons - 4 hours geared to get you tackling and moving through some of the tasks on your TO DO List.
What work is required?
The Coaching Biz Growth Lab is all about your own business development. Whether you are starting or growing a full-time business, or this is a side-gig for you, in addition to the calls you will want to carve out space and time to focus on your own business goals. As this is a coaching program there are program elements to support you in your business goal achievement which will require your action.
What are the GET IT DONE Virtual Retreats?
As business owners we usually have a long laundry list of things to do. The Get it DONE Virtual Retreats are geared to get you into action. Held quarterly, these 4 hour sessions provide you with a focused place to GET THINGS Doe. Hourly accountability check ins keep you moving forward on those tasks you might not get done.